Clarion Collection Hotel Tapto
Address

: Jungfrugatan 57, 115 31 Stockholm
show map
Location: Stockholm
Hotel | Clarion Collection Hotel Tapto is a personal and cosy hotel in central Stockholm, focusing on frequent travellers. Every day the hotel serves complimentary afternoon coffee and home made cake, as well as a generous complimentary evening buffet.
A Scandinavian breakfast buffet is included in the price of your room.

The hotel offers individual service to each guest making you feel at home. When entering the hotel you will feel the warmth and hospitality that reflect the entire atmosphere at Clarion Collection Hotel Tapto.

The hotel features 117 non-smoking rooms, all of which include cable television with pay TV and free Internet access. The hotel has a very good standard and nice traditional Scandinavian décor.

The front desk is open 24 hours a day and offers a safety deposit box and a nearby parking garage. Conference rooms are available for business guests. In the relax area you will find a steam sauna as well as a dry sauna.
Compare "Clarion Collection Hotel Tapto" with similar alternatives
Eco-friendly Hotel Scandic Park is located right by the tranquil park Humlegården and vibrant Stureplan Square with shops, bars and the city's nightlife in just 5 minutes walking distance. Stockholm's sights and attractions are also nearby.
Eco-friendly Scandic Anglais is located in the centre, in the heart of the business and entertainment district, with everything within walking distance. Stockholm's best shopping is right around the corner and you have easy access to attractions and museums.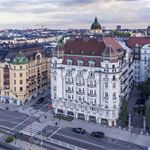 Hotel Esplanade is a personal homely hotel in beautiful well-preserved Art Nouveau environment with excellent central location on Strandvägen. Walking distance to Djurgården (the park), The Old Town (Gamla Stan) and Stureplan. Buffet breakfast and wifi included in the price.