Maude's Hotel Enskede Stockholm
Hotel | Maude's Hotel Enskede is the perfect choice if you want to be close to the city pulse without all the noise. It is 15 min by underground to the city center, 5 minutes to Tele2 Arena / Stockholm Globe Arena. Stockholm International Fair in Alvsjo is 4 km away, the bus stop is near the hotel.
Maude's Hotel Enskede is located in the idyllic residential area with excellent public transportation links to Stockholm city centre, Stockholm Globe Arena, Tele2 Arena and Stockholm International Fairs. The Svedmyra underground station is just steps away, providing easy access to all areas of the town, only 12 minutes to the city centre and 5 minutes to the Globen area.

The hotel is non-smoking, and interiors are both spacious and contemporary, enhanced by a wealth of comfortable comforts. Maude has devoted much thought, effort and time to create a modern, intimate and cosy atmosphere in the rooms. Skilled craftsmen have created the bedframes and the working desks after Maudes own design and drawings. There are 4 different room types with soothing earth-toned colours and modern décor. The rooms are tastefully designed with functional working desk, LCD-TV, comfortable beds and bathroom with underground heating floor.

In the lounge or on the beautiful summer terrace you can enjoy a cup of coffee or a drink during the day or in the evening. There are several restaurants within easy reach and our multilingual staff are delighted to be of assistance with the questions and queries that you might have during your stay with us. You can also take full advantage of a complimentary private parking area, wireless Internet connection and coffee/tea with homemade cookies in the lounge.

Please contact the hotel if you plan to arrive after 23.00/11am.

Do you arrive by car?
The hotel offers free outdoor parking.
"Maude's Hotel Enskede Stockholm" mit ähnlichen Alternativen vergleichen
Scandic Hotel Talk is a hotel integrated with Stockholmsmässan and has 248 rooms. Only 10 min with commuter train from Stockholm city centre.
Clarion Hotel Stockholm is not just a meeting place for locals, it is also an international conference, event and business hotel. Strategically located in central Stockholm on Södermalm with bars, galleries, shopping, and with less than ten minutes to the metro station.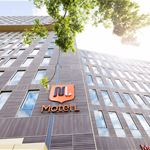 Das neu gebaute Motel L Älvsjö gleich gegenüber der Stockholmer Messe und dem Bahnhof Älvsjö und punktet mit Schwerpunkt auf Design bei erschwinglichen Preisen.