Landeryd GK North Course
Adresse: Bogestad Gård, 58593 Linköping
Datum: Montag 12 apr 2021 - Sonntag 12 Apr 2026
Karte anzeigen
Adresse: Bogestad Gård, 58593 Linköping

Landeryds GK has three 18-hole courses near Linköping. North and South courses are located at Bogestad Farm, a few kilometers from Linköping. North Course is a forest and parkland course, par 72. It has a restaurant and a practice area.
North Course is varied with championship length. It has hosted as well the Nordea Masters as PGA Championships. North course is three courses in one, with heath, park and woodland holes that beautifully wind along the Kinda Canal. North Course has an American touch with tasteful stone-lined ponds, white crushed marble bunkers and a waterfall on the seventh. After three holes, you are out on a moorland that makes you think that you are on a Scottish seaside court. From 7 to 13 woodland, oak groves and mountains line the holes.

Then you're back on the rolling moors and the closing holes that go in an open parkland. From the back tee the course has championship measures and from the club tee it is an excellent test of your handicap. The characteristic white bunkers are often located just off the green.

The greens are relatively flat, but sneaky and fast. There are golf carts for hire. Only softspikes are permitted. Dogs are not allowed on the course.
Mehr anzeigen
Hotel
Entfernung: 7,3 km
Eco-friendly Scandic Linköping City is centrally located, with the city's shops, malls, entertainment and restaurants nearby. The location provides a good starting point for visits to museums such as the Artgallery Passagen, or taking walks in the citycenter.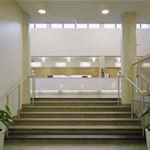 Hotel
Entfernung: 7,8 km
Eco-friendly Scandic Frimurarehotellet is located in central Linkoping, close to all the attractions and entertainment. The hotel's location provides a good starting point for visits to museums or tours in Linköping city. The airport is located only 3 km away.
Hotel
Entfernung: 9,9 km
Environmentally friendly Scandic Linkoping West is located in a quiet area, near the E4. It´s close to Old Linköping, with it´s charming houses. Valla Recreation Area and the Air Force Museum are popular attractions here. To Linköping town it´s 15 min by bus.